Making #KawarthaWorks, Work!
The Kawartha Works Community Co-op offers the lower cost and convenience of shared services such as insurance and accounting as well as having an incorporated status to receive grants. We also have a network of members with a variety of community connections of shared information and experience, and potential partnering for projects. The participating initiatives range from family support networking to community consultation, music events, summer and winter festivals, housing planning, canal docking improvements, town beautification, and bike rentals.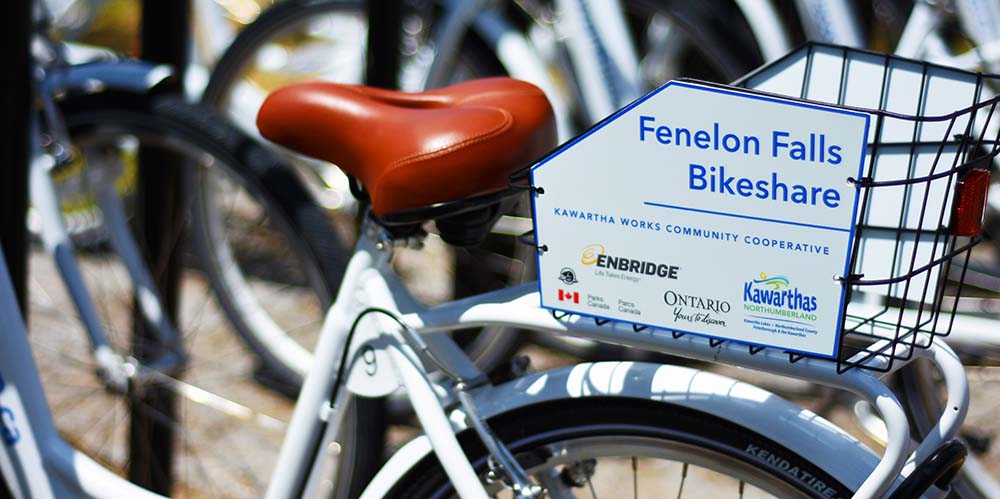 Community Bike Share Program: Your go-to Summer ride in Fenelon Falls and Bobcaygeon
Our community Bike Share initiative offers easy rentals in Bobcaygeon and Fenelon Falls. Located near the Trent-Severn Waterway locks, these comfortable bikes are perfect for locals and tourists alike!
A stunning outdoor amphitheatre – the first-ever in Fenelon Falls – will be home to The Grove Theatre, and an exciting venue for and producer of live performance.
KWCC came out of community improvement discussions conducted by Fenelon Forward.  As ideas were identified for improvement initiatives in Fenelon Falls, the need for an umbrella organization to facilitate developments was recognized.